Cinema program "Headspace" in Kielce
No showtimes for movie "Headspace" for today
Choose other date from the calendar above.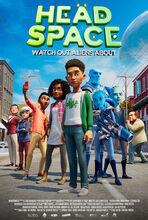 Original title:
Headspace
Runtime:
85 min.
Production:
RPA , 2023
Release Date:
22 September 2023
Distribution:
Kino Świat
Directed by:
Paul Meyer
,
Gerhard Painter
Cast:
Bonko Khoza
,
Zak Hendrikz
,
Nelisa Ngcobo
W wyniku kosmicznej anomalii statek Sił Obrony Galaktyki i jego miniaturowa załoga – Gus, Max i Sophie trafiają do wnętrza mózgu 16-letniego ucznia – Normana. Od teraz widzą i słyszą wszystko to co nastolatek. A to dopiero początek kłopotów, bo dzielni kosmici są w trakcie misji, od której zależy dobro i przyszłość Wszechświata. Teraz, aby pokonać największego wroga – międzygalaktycznego złoczyńcę Zoltharda, Gus, Max i Sophie będą musieli ujawnić się i poprosić chłopca o pomoc. Muszą się jednak śpieszyć, bo podstępny Zolthard przejął już kontrolę nad umysłem dyrektorki szkoły, do której chodzi Norman i przeciąga na swoją stronę kolejnych nauczycieli. Czasu jest coraz mniej, po szkolnych korytarzach krąży UFO, a kosmicznie komiczna konfrontacja dosłownie wisi w powietrzu!