Cinema program "The Creator" in Kielce
No showtimes for movie "The Creator" for today
Choose other date from the calendar above.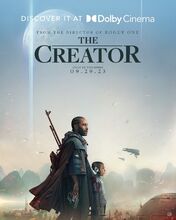 Original title:
The Creator
Runtime:
133 min.
Production:
USA , 2023
Category:
drama
/
romance
Release Date:
29 September 2023
Distribution:
Disney
Directed by:
Gareth Edwards
Cast:
Gemma Chan
,
Allison Janney
,
John David Washington
Podczas wojny toczącej się pomiędzy ludźmi a siłami sztucznej inteligencji, Joshua (Washington), były agent służb specjalnych, którego żona zaginęła w niejasnych okolicznościach, zostaje zrekrutowany do wytropienia i zlikwidowania nieuchwytnego architekta zaawansowanej technologii. Poszukiwany twórca wynalazł broń, która może przyczynić się do zakończenia wojny, ale też niesie niebezpieczeństwo unicestwienia całej ludzkości. Joshua i jego zespół elitarnych agentów, przekraczając linie wroga, docierają do mrocznego miejsca, gdzie odkrywają, że bronią będącą zagrożeniem dla świata, którą mieli zniszczyć, jest sztuczna inteligencja w postaci małego dziecka.
Movie trailer: The Creator